Fergus Hambleton returns in 2021 with a musical surprise - moving away from his world music and pop background into jazz. And it's a seamless transition as he is a student of music and has assembled a team of phenomenal jazz players to give us authentic and sincere renditions of several jazz standards. The real treat, however, is Fergus's ability to write his own jazz compositions which both compliment the genre and his own voice.  
- Jaimie Vernon, The Canadian Pop Music Encyclopedia.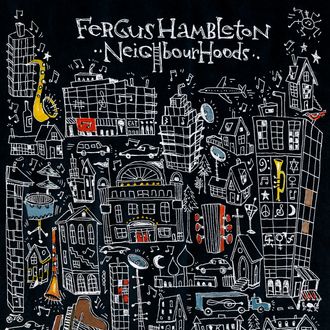 Neighbourhoods
Fergus Hambleton
Fergus Hambleton Launches Big Old-Fashioned Album
"It's the kind of album that musicians used to make because they loved getting together to create music. 
There's no songwriting camp material found here, no pandering to political persuasions or even a particular plan of action to make Neighbourhoods the best new thing. 
And that's the beauty of it. 
It is so different, so spectacularly sumptuous in its delivery, so damned enjoyable to listen to that it stands out for anyone who cares to discover it. It's like iced tea with an orange slice and a sprig of mint on a steamy hot summer day." 
"The album is chock full of songs that are as romantic as the eras they tease. It's cabaret; it's café music, John Renbourn, Bert Jansch, Nick Drake, Hank Marvin, Scott Walker, Jethro Tull, Sweet Baby James; a cornucopia of beautifully written songs performed by a spitfire band recorded under the attentive watch of producer Vezi Tayyeb at Kensington Sound." 
"In days of old, certain albums were flagged for their sonic quality that attracted hi-fi enthusiasts with hi-end stereo systems. This album fits the bill."
David Farrell - FYI Music News
NEIGBOURHOODS - FERGUS HAMBLETON
Laidback local hero Fergus Hambleton has gone from playing sax to guitaring with Sattalites to singer/songwriting, all of which come together to sweet effect on this latest album. 
Posited as a stroll through neighbourhoods real and imagined, Hambleton has taken that and woven strands of reggae, pop, folk and rock across its frame and filigreed with gorgeous at times medieval-sounding harmonies that brought extra texture.  Such is the enduring cool and command of his craft wielded by the man that at the end, makes this brilliant piece of music and words seems so just by chance. The album kicks off with "Late September Song,"a catchy tune that skips along brightly, and a showcase for the talents of backing unit Wood and Water. The harmonies do it a little differently by focusing on what Hambleton is singing rather than filling in backing vocals. That the song moves along at a goodly pace gives the impression that wherever it's going is gonna be a fun place. Which brings us to "A Good Place To Be", where the harmonies are no less impactful for being more traditional backing vocals."Slow Fade Into Black " is a reworking of a 2018 release that got attention worldwide for its down-tempo vibe, Goth-y title and Hambleton's measured baritone.  Elements of that uneasy feeling show up on "Walking in a Storm", like you just left a sketchy club in a strange neighbourhood, can't recall where you left the car and there's a white van rolling towards you. All due to a clever arrangement employing a horn section playing jumpy riffs.By now it's hard to deny the album's perfection or its keen eye for the singular but the man isn't done yet. "Life of My Own" and "Summertime Fun" find Fergus in a rock'n'roll neighbourhood replete with power drumming and distorted guitars. That's far from all there is, just leaving a few surprises.The album bows out with folk standard "Pretty Peggy O" which Fergus kept close to its roots to ends the proceedings with a warm, peaceful easy feeling. 
Lenny Stoute - Record World Magazine
Fergus Hambleton Showcases His Rad Versatility in His Timeless Album, "Neighbourhoods"
Nowadays, it takes more than just an amazing voice to be successful in music. Luckily for Fergus Hambleton, he knows exactly what the formula is to make something groundbreaking. Fergus is not only a singer, but a composer, multi-instrumentalist, songwriter, and even more! All the way from Toronto Canada, he's been a leading member in the folk, pop, and reggae's field since the 1960s. With each subsequent year, Fergus Hambleton has grown to be a living legend and icon. 
We took a listen to Fergus Hambleton album titled "Neighbourhoods" and it's like we entered some super innovative modern-day time machine that felt warm and delightful. The album begins with "Late September Song", a song with smooth-sailing vocal delivery and descriptive lyrics of love that sends a passionate feeling to the listener. The folk-like instrumentation creates a warm atmosphere for the track. Transitioning into the next track "Slow Fade Into Black", Fergus creates contrasting style with "Late September Song". I was a huge fan of the melody and reggaeton vibe in the production. As a personal fan of reggae, the mood sends me soaring. It's a cool demonstration of Fergus' versatility very early on in the album. The next single off the album is "A Good Place To Be", and what stands this song apart from the other two so far, is that the hook was so contagiously addictive. It's a tune you can sing with friends and share a sense of harmony and chemistry with one another. It's a classic tune with an ageless arrangement.
Buzz Music