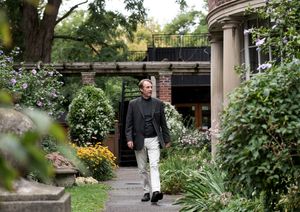 Fergus Hambleton, a versatile singer, songwriter, composer and multi-instrumentalist from Toronto, Canada has been prominent in the folk, pop and reggae fields for over fifty years .
He was a member of many Toronto bands in the 60s including A Passing Fancy, a popular Yorkville group. In 1971 he was signed to Capitol Records Canada and released two folk-rock albums, "All The Right Noises" and "Town Of Fergus".
In the 70's Fergus began doing sessions as a sax player with the Jamaican community in Toronto. A stint as a guitarist in Leroy Sibbles band and countless sessions led to a meeting with the legendary Jamaican musician Jo Jo Bennett. Since then, they've had a 40 year musical partnership that has earned them both a unique place in Canada's rich musical tapestry as the core of the popular reggae band The Sattalites. The Sattalites have had a successful musical career with numerous high-profile performances, 6 studio albums, two Juno Awards and a host of national and international awards and accolades.   Fergus has also released a number of solo albums including "Snapshots" in 1998, "Playtime " in 2009 and "Written On The Wind" in 2015.
November 6th 2019  'Neigbourhoods" , a  11-song album of that takes listeners on a musical journey through the world of Fergus and his friends. His latest release "Jazz Lover's Society Vol. 2" is his tribute to the great crooners of the 40's and 50's with the addition of some originals written in the same vein composed by Hambleton and a Jackie Mittoo reggae instrumental that seemlessly blends in with the other selections on this 9 piece gem.
Greg Gooding.